"Easy Listening" baserer seg på bruk av talegjenkjennelse til å leke med konvensjoner rundt kafesituasjonen.
Utstillingen består av mikrofoner som kontinuerlig lytter til samtalene ved en del av bordene i kafeen. Disse er kolblet til en datamaskin som tolker det innkommende lydmaterialet og presenterer resultatet som ren tekst på monitorer plassert rundt om i lokalet. Maskinen forstår kun perfekt engelsk (basert på ordforrådet i en typisk amerikansk næringslivsavis) og skaper derfor en surrealistisk og humoristisk undertekst til det som foregår i lokalet. På denne måten skapes et filter der ordflommen i en typisk kafesituasjon gir grunnlag for ny meningsproduksjon hinsides teknologiens begrensninger.
-------------------------
"Easy Listening" is Gisle Frøysland's way of playing around with our excessive belief in technology as a means of seamless interaction and smooth conduction of information.

In a café environment a number of microphones are monitoring the ongoing conversation. The captured sound is fed to a computer, continuously attempting to translate the spoken word into pure text. The result of the ongoing process is presented on computer screens around the café. As the digitalized translation is based upon perfectly spoken English, the computer will constantly misinterpret what is said, thereby creating a surreal sub-text from the conversations. Through his playful use of automatic transfiguration Frøysland points to the existence of a production of meaning beyond, or inside, the circumscriptions of technology.

Frřysland's work is an inquiry into what he himself calls the "hype traps that the computer and media industry wants us to believe in". In pieces like "Dodonews" and "the FaceBot", he turns these traps into dialogic scenes, thereby revealing hidden power structures and presumptions. The dislocations of Frøysland form a media critique that questions not only the cybernetics of the net but also its utopian claim; neither browsing nor digital interpretation can free itself from contextual references.


from www.electrohype.org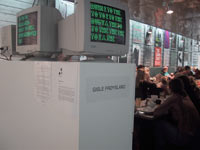 Visninger:
Piksel Festival, Landmark, Bergen nov. 2003
Dissonanze Festival, Rome, Italy 2. - 3. oct. 2003 ---------------------->> images
Electrohype, Malmř, Sweden 2002 ---------------------->> images
Zoolounge, Oslo 20. april - 6.juni 1999
Tech:

CMU Sphinx: Open Source Speech Recognition
MøB Asciitxt module
Programming and Linux expertise: Carlo Prelz